By Woody
In very sad news Andy Spencer bassist with Black Country rockers The New Saints has recently passed away, he had been battling Cancer. He was only 44. Everyone's thoughts go out to all his friends, family but especially his wife and daughter. R.I.P.
A few nice surprise gigs have popped up over the past few weeks, the most high profile is probably the TEN / Serpentine / White Widdow tour. I have to say I'm really looking forward to catching all three bands at The Roadhouse, Birmingham on the 30th May. Ten haven't toured in over a decade and I still have fond memories of the last time I caught the band in 2001 co-headlining with Bob Catley in Burton, it's good to see they are going to become more active on the live front! Although Serpentine have been carving a name for themselves as a live act since the appointment of Matt Black, including an appearance at last year's Firefest, this will be my first time seeing the band and I can't wait to see if they live up to the all the reports I've heard!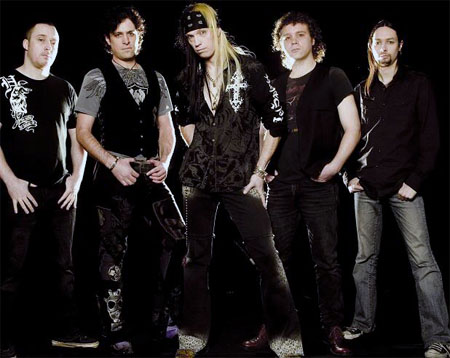 Serp's front man Matt Black is also blazing the live trail as a solo artist; he'll be playing The Roadhouse, Birmingham on the 3rd May. Matt will be playing songs from his debut solo album Dreamcatcher as well as a few well known rock covers. In support will be brummie melodic rockers Daylight Robbery who are currently riding high on tide of positive reviews of their debut album Cross Your Heart. Have to admit I'm quite looking forward to this gig and it will be my first visit to The Roadhouse.
Black Country vocalist Lee Small is currently receiving a lot of attention for his stunning performance on the latest SHY album and has just released a solo album Jamaica Inn. The album has received a lot of positive reviews with Lee been compared favourably to fellow Black Country legend Glenn Hughes. So in support of the album Lee is preparing for some live dates to support it with many more still to be announced but I'll definitely be at his gig at The Tackeroo in Hednesford on the 28th July.
Another live date for your diary's and mine is the Electric Boys who are bringing some funk rock to Wolverhampton's Slade Rooms on the 28th November. Unfortunately I couldn't make it to their last midlands gig last year at the Rescue Rooms in Nottingham, so I'm very much looking forward to catching them this year in the Black Country!
It seems we don't have long left to wait to hear when VEGA's much anticipated second album will be released. But it the mean time it seems someone has snuck into VEGA HQ and allowed us to have a taster of the new album check this video out:
I have to admit that this is my most anticipated album of the year and this clip only fuels my excitement for its release. Here's hoping we don't have to wait too much longer!
Also in VEGA related news, Pierpaolo 'Zorro' Monti whom many of you will know from the rather excellent AOR goodness of Shining Line and Lionville is working with Dave Rox (Wheels Of Fire) on a new melodic rock project. This project will feature a few guest appearances but amongst them will be Nick Workman and Tom and James Martin of VEGA! As a big fan of Shining Line and Lionville I'm intrigued about this new project and especially the track which will feature the VEGA gang!
I
t's been a long time coming but Romeo's Daughter will release their third album Rapture on March the 12th. This is a release I'm very much looking forward to; I have a feeling it's going to be well worth the wait too!
Belgian AOR-sters Frozen Rain return after four years with a new album Ahead of Time released on the 12th of March via the Avenue of Allies label. This is the bands second album and it sees main man Kurt Veerecke form a full time group of musicians rather than using guest this time around and features the ever busy Carsten 'Lizard' Schulz on vocals. Definitely an album that genre fans will enjoy with relish!
Iconic Night Ranger singer / songwriter Jack Blades is back this year with a solo album Rock N Roll Ride which is to be released on March 26th via Frontiers Records. Night Ranger came back with avengence last year with their Somewhere In California album so expectations are very high for this release. The insider buzz is this one's a bit of a humdinger too!
Z Records have updated their release schedule which sees Legion's Nemesis album to be released on March 5th, Shy's Unfinished Business re-master on March 26th and the much anticipated Paul Sabu Bangkok Rules album is due out on April 23rd, just in time for his headline appearance at Z Rock 2012.
Crazy Lixx made a lot of new fans with their thoroughly enjoyable New Religion album. The Swedes return this year with Riot Avenue out on April 23rd via Frontiers Records. I'm sure this will be on many people's shopping list especially those who like a little bit of sleaze!
Popular Flamboyant Norwegian rockers WIG WAM have just released Wall Street as a single; this incidentally is also the title of the bands forthcoming album as well. I'm sure the return of the band this year will please many with their fun loving brand of rock n roll!
I think Trixter coming out of retirement shocked many, but the fans of this cult melodic rock band will be looking forward to this one. Their new album New Audio Machine is set for release on April 23rd via Frontiers Records.
One of the mostly fiercely supported bands I've ever known Tyketto have finally managed to complete their much requested new album. Fans have been pestering their band since they reformed in 2004 which has since seen them play many shows across the country over the years. So the Tyke's release Dig In Deep on April 23rd via Frontiers Records and I've got a gut feeling this is going to be a little bit special.
Fans of Dokken and Van Halen should check out the facebook page for Skin & Bone a British band who I think are going to make a big splash this year with their debut album.
Another British artist to check out is Daniel Trigger who is releasing a solo album Infinite Persistence on the 12th March. You can check it out via his website
Look out for the new Human Temple Halfway to Heartache album which has been recently released on Escape Music.
This month sees a quartet of releases on Frontiers Records; from 27th February look out for Sunstorm Emotional Fire, Michael Thompson Band Future Past, Sonic Station Sonic Station and Mr Big Live from the living room.
It's been a while since we had an album from Mike Walsh's Departure and they return with Hitch A Ride due for release on April 20th via Escape Music. Taking up vocal duties this time around is Andi Kravljaca of Silent Call; I have to say I'm very curious about this one as I'm a fan of the previous output from the band!
Angeline have released a video for Run, Run, Run from their latest opus Disconnected check it out here:
If you're a fan of Bangalore Choir keep an eye out of the next few months for their new album Metaphor which is to be released via AOR Heaven.
Another release coming soon on AOR Heaven is Luley Today's Tomorrow. Klaus Luley was front man of German rockers Tokyo and Craaft so fans of both those bands should keep their ears open for this one.
Europe's new album Bag Of Bones is out on April 18th.
Swiss melodic rockers Skansis have released a new video for I Want You you can watch it here:
Rock Candy have dusted off a couple of AOR classics for our pleasure, look out now for Grand Prix Samurai and Sheriff Sheriff.
The popular Swedish AOR-sters H.E.A.T complete with new singer Erik Gronwall return with their third album Address The Nation. The album is out in Europe in March!
And that's your lot for this month, see you soon.