Interview by Woody
Hey Sarah and Melissa, this is Woody from Midlands Rocks in the UK, hope all is well!
Chasing Violets : Hi Woody, we are fine thank you ! We are glad to do this interview for your great website!
First off and correct me if I'm wrong, the Chasing Violets album is your first English language album? So how did Chasing Violets begin and get together?
Sarah Fontaine : You're totally right, Woody, "Outside Heaven" is our first English album and our first Melodic Rock album as well. It was challenging, but worth doing it. The starting point for this crazy story was before our meeting with Frédéric Slama (AOR), in 2006. Me & Mélissa had high aspirations that any singer could wish for. Our goal was to create the perfect female AOR band. We had the vision and the need in our hearts to play this kind of music and Frédéric was the expert we prayed for. So, we decided to work all together on a project of a lifetime. We were thrilled of the perspective of recording such a class album.
The West Coast AOR sound of the album is usually a genre dominated by male voices; I have to admit it is really refreshing hearing female voices on these types of songs. Is this a style of music you have always wanted to create?
Mélissa Fontaine : You're absolutely right ! There are a lot of more male artists evolving in this musical style than women. We don't see it as a problem for us and it leads us to more freedom and creativity! For our 1st album, we chose to perform in a more sensual way without following the trends. This way people will easily see the difference between ourselves and other female AOR bands. Legends like Journey, Kansas, Foreigner, Toto, influenced us a lot to record an album in this style. Passion is the motor inside our hearts to play this music.
Did the debut album come out as you had hoped? What are your favourite songs on the album and any reasons why?
S.F : I think that for a first album, we couldn't asked for more! The combination of high quality duet with soothing female voices, high quality powerful guitars & ethereal keyboards, are the main driving force of "Outside Heaven". This album mixes all our Melodic Rock influences, with sharp & rhythmic songs. We'd like to mention the impressive cast of musicians that surrounded us to give us incredible sensations.
We're proud of our 13 tracks on "Outside Heaven", 'cause there are no fillers. We especially like "A Hole In Paradise", 'cause we are enchanted by this pure west coast gem, with Philip Bardowell on vocals, with Mike Baird on drums, Michael Landau on guitars, David Diggs & Frédéric Slama at the helm. But, all the songs are top notch and fans will be blown away by the sound and arrangements of our CD!
You have worked with many famous names from the world of melodic rock on this album, with Frédéric Slama of AOR fame at the helm, who did you enjoy working with and whose performances are you particularly fond of?
M.F : We appreciated to work with Tommy Denander, Paul Sabu & David Diggs, three fantastic musicians & producers, that are well-known for their level of perfection. It's the kind of collaboration we will never be able to forget. I'm a big admirer of Tommy's guitar solos that are always breathtaking! But among all these great musicians it's pretty hard to choose. We have been blessed to work with the cream of the crop in the Melodic Rock world!
I believe work on your second album has started, is there anything at all you can tell us about it? Song titles or maybe some more guest musicians?
S.F : We already began to work on our 2nd album, right after the release of "Outside Heaven", 'cause we had some good opportunities. It was quite difficult to promote our 1st release at the same time, but we were excited about this new project! It was the perfect beginning for a new chapter of Chasing Violets' novel! It's obvious that our new album will be completely different than "Outside Heaven", 'cause we definitely wanted to leave our aerial side apart to reveal a little more of our true nature. This album will be rockier than ever, with a true energy! A punchy AOR sound & some rockier voices. We both have our own vocal style. We won't reveal you anything else, except that there will be plenty of great guests. The title of our 2nd album will be revealed very soon. It's scheduled for the beginning of 2013.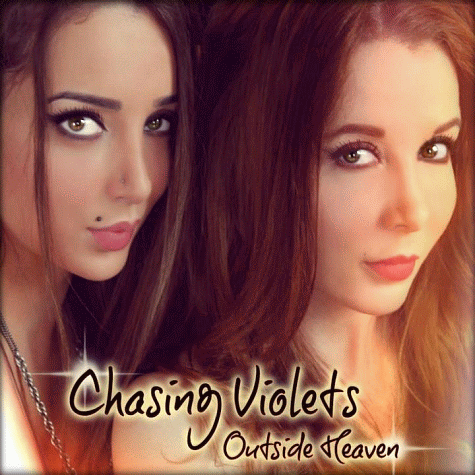 You have performed once as Chasing Violets at a festival in Spain; do you have any more live shows planned especially here in the UK?
M.F : We're currently planning our future tour all over the world, and you can be sure that our wonderful English fans won't be forgotten. You're all so precious to us! We had to stay concentrated on the promotion of "Outside Heaven", and with all the work and rehearsals we had to do, we couldn't plan shows sooner than in 2013. We are very perfectionists and we work hard all day long to bring the best to our fans.
Is performing Live something that is important to you or would you prefer to be a studio band?
S.F : First of all, we are born as a studio band. This is the place where you express yourself fully as an artist. During the recording of an album, everything as to be under control. Otherwise, it can be really messy and we could lose easily the right direction. This is not the case during live performances. All these unexpected things could have a direct impact on your reputation. It means that you have to accept the best and the worst, even if it doesn't come from you. Your performance on stage can depend on previous live experiences. Sometimes, it's not only a question of talent. Growing musically means to be able to stand anything, even the worst reviews! Live performances are essential to become a respectable and well-known artist. Nothing could spoil our pleasure to play live. That's what we definitely prefer in music.
France is not really seen as a hot bed for the melodic rock genre, although I also love another French band called 'Silence'. What is the melodic rock scene like in France from your perspective?
M.F : The music industry in France is not very open for discovering new Melodic Rock bands. There is no scene dedicated to this type of music. If your sound is modern, you can be classified into the Pop-Rock category. I'm not sure this is something good, but people have no idea that this kind of music (Melodic Rock) is the base of the French Pop-Rock crap they listen to. Strangely, we (Chasing Violets) have a fantastic reception in the Hard-Rock circle in France. People are surprised to see how much we are welcomed there, despite the fact that we have an original style. Because of our look and our young appearances, we seem to captivate our audience. French people always tell us the same thing. They say that we are not old-fashioned like other French "Melodic Rock" bands, clones or copycats of famous bands like Bon Jovi, Scorpions, Guns & Roses…We definitely think that the best is yet to come in our native land.
You have already worked with some great musicians is there anybody out there who you would love to collaborate with in the future?
S.F : We were pleased to work with all these great musicians for sure. All these moments were unbelievable as you can imagine! We love music so much that it's very hard for us to choose between all these great singers that we didn't work with yet, but i can tell you that we really appreciate singers like Brian Howe, Steve Augeri, Jeff Scott Soto, Joey Tempest… We'd love to perform live with them or make a duet on our next album. Me and my sister have a lot of music idols, and we'd need a lifetime to work with all of them.
Are you involved with any other bands or projects at the moment that you can talk about?
S.F : We already worked on several projects. We are featured in "Dreaming Of L.A" by AOR (Frédéric Slama), on the song "Like An Open Book". Everybody says it's a killer track. I also co-wrote a track called "No One's Gonna Hurt Me Anymore" with Frédéric Slama (AOR) for the album "L.A Temptation". I'm so proud of this song. Knowing that Rick Riso, a world class studio singer based in L.A., sings on it is even more unbelievable. Chasing Violets is currently working secretly on other projects in addition to our 2nd album, scheduled for 2013.
What bands are you currently listening too and enjoying?
M.F : We're currently listening to "L.A Temptation" by AOR, "Order Of Chaos" by Obsession, "Legacy Of Life" by Impera, "Bag Of Bones" by Europe and many others. We really look forward to listen to Yngwie Malmsteen's new album, entitled "Spellbound".
Thanks for your time, is there anything else you would like to say to the Midlands Rocks readers?
C.V : Thank you Woody & all the Midlands Rocks readers! We'd also like to thank all our beautiful fans all over the world & all the people who are supporting us! Very special thanks to our "Team" for always being by our side! "Outside Heaven" is available on HMV, Amazon.uk, AOR Heaven… Don't miss our latest news on our official website: www.ChasingViolets.fr