Sep 03, 2012 | Comments 0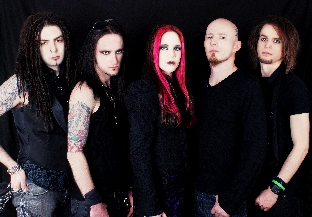 A busy week for gothic orchestral metallers Hanging Doll sees them release "The Sacred & Profane" today (3rd September 2012) on Rocksector Records, whilst making the song "Dark Narcissus (The Forest)" available immediately for free mp3 download. A new video featuring the title track from the album has also been made available featuring a combination of live footage & studio sessions, meanwhile Powerplay magazine have recognised the band with a double-page feature in the September issue out now.
 Critical praise has been forthcoming not least from Dom Lawson of Metal Hammer who describes the album as "Bold, epic & inventive with Sally's glorious voice leading the charge.. this is superlative gothic heaviness with brains, balls & bags of ideas".
The first video, "Carnival Of Sin" (below) released earlier this year has attracted in excess of 13,000 views on Youtube & whilst the shorter catchy side of the compositions is shown there, the new video reveals some of the deeper, darker, progressive elements of the album.
 2012 has been a year of highpoints with Hanging Doll already playing as special guests with legendary former-UFO & Scorpions guitarist Michael Schenker, visiting France, Austria & Czech Republic on that tour. Looking ahead they play a showcase event on 23rd November at London Underworld, with German metallers Mono Inc. & on 15th December the band returns to Manchester, playing at Moho Live in Rocksector's "Winter Fuel" showcase – more details to come.
 "The Sacred & Profane" is released today and is available to buy on CD at online stores such as
Play.com
,
Amazon.co.uk
&
HMV.com
& to download at iTunes.
Meanwhile, the free song "Dark Narcissus (The Forest)", both music videos & all further details are available at
www.rocksector.com
Comments (0)